Bio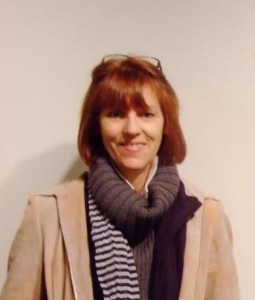 I came to art sideways … approaching it sporadically for years while raising two girls with my husband, Tom, and moving from Cleveland to Columbus to Detroit to Toledo to Atlanta, then back to Cleveland. Mirroring this circuitous route, I finally found time to pursue art.
Oil painting classes came quickly and culminated in my first series, Pool Portraits. This series captures my love of family as each person wades, splashes and lingers in and around our pool. Each painting is an interaction in many ways, including the play between light and water–its facial reflections, liquidy distortions and shadowy hues.
Other explorations and experimentation came later as I looked in and beyond my own backyard. I love both the sublime, as well as the ridiculous when it comes to the subjects of my paintings. I revel in the garish, dinner-plate-sized hibiscus with its papery petals. I also cherish the cool, wondrous solitude of the moon.
My Subversive Topiaries series (in progress) illustrates that man's control of nature is often undermined.
Along with oil painting, an opportunity arrived to create and paint a 25-foot mural (with artist Ellen Wilson) for the Cleveland Rowing Foundation.
Another opportunity in public art: the painting of a snake for the St. Clair-Superior Development Corporation. A project in acrylics that was new and fun.
A recent summer adventure in art occurred when I took a welding class at the Cleveland Institute of Art. Out of this: a cuckoo clock with surrounding birds.
More adventure awaits. I long to grasp it.